Back
Karen Pavicic & Don Daiquiri Give Olympic Effort in Austria
Karen Pavicic and Don Daiquiri could not have picked a more picturesque setting to end their 2016 Olympic campaign, nor in better company.

Owned by the famous Swarovski family, the showgrounds are located in Fritzens, Austria and are nestled at the base of the Austrian alps making for some stunning backgrounds.

Pavicic and Don Daiquiri were looking to overtake the incredibly small gap of .049% in the Canadian Dressage Olympic leaderboard between herself and 2014 World Equestrian Games teammate Megan Lane to achieve the second ticket to Rio this summer.
The CDI4* drew an international starting list, including German Olympic dynamos Isabell Werth, Jessica von Bredow-Werdnl and Dorothee Schneider.
It was Isabell Werth who would win the Grand Prix on the first day of competition on Emilio 107 with a score of 78.960 % . Karen Pavicic and "Dono" finished in seventh position with 69.240%. Although 2 judges had her 4th in the 70% range, unfortunately Mexico's Maribel Alonso de Quinzanos' low score of 66.9% meant that the final average was not enough to use towards increasing her 4-score average.

It would end up being a nail biter in Sunday's Grand Prix Speciale. Unfortunately some costly mistakes meant that the end score would be no higher than 67.804%, 2.136% shy of the 69.94% needed to secure Pavicic the coveted second position on the Canadian rankings leaderboard. The class was again won by Isabell Werth and Emilio 107, breaking the 80% barrier with 80.196 %.

While Pavicic undoubtedly must be disappointed that she did not achieve the result she had been hoping, there's no denying the very public support she has been receiving in her perseverance and inspiring determination to achieve her Olympic dream.

She took to her Facebook page to express her gratitude: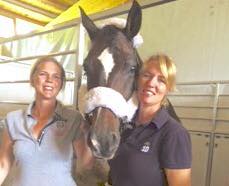 "I am blessed to have so many people who have helped and supported me along this incredible journey. The decision to make the trip half way across the world has not been met with regret, only with gratefulness for yet another wonderful experience. The past 6 months certainly have not been easy, however, we have given it our all, and for that I am extremely proud! I am truly overwhelmed with the love and support that we've been shown from around the world, it is sincerely appreciated. Thank you all, especially Don Daiquiri!!!"
(picture of Jayne Essig & Karen Pavicic with Don Daiquiri from Karen's Facebook page )
Although qualification has officially ended July 3rd, Equine Canada won't be making the official announcement until July 14th.

However barring any unforeseen circumstances, and without actually knowing all the specifics in the top-secret selection criteria, it looks like Canadian dressage fans will be cheering on:
Belinda Trussell & Anton
Megan Lane & Caravella
We can only hope that unlike the Nominated Entries, both Belinda and Megan are formally notified by Equine Canada about their successful naming to Canada's Olympic Team rather than finding out via an FEI press release on social media!

A big shout-out to all the declared athletes whose personal and financial sacrifices went into the pursuit of their Olympic dreams.

And a special shout-out to the top 4 who made it an even more exciting race to watch in the final month:
Belinda Trussell & Anton
Megan Lane & Caravella
Karen Pavicic & Don Daiquiri
Chris von Martels & Divertimento
We're looking forward to sharing Belinda's and Megan's Olympic stories.